I'm sure you've all been through this typical grocery store dilemma. You're at home and you go through your fridge and make a list of food you
need
, most of it being fairly healthy. Tomatoes, lettuce, potatoes, chicken, milk, eggs, etc. Then you head to the store and you're doing ok...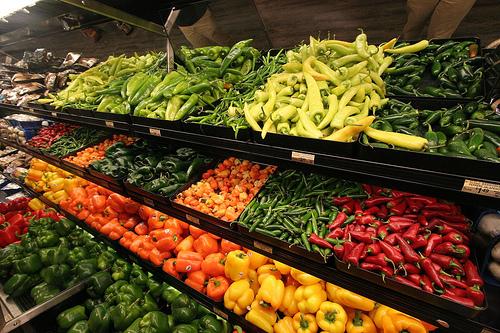 Yup still on track! And then it's like BAM!! You start drifting into the other aisles and suddenly you're here:

Times like these I kind of wish there was a grocery store nearby that didn't even have those things on sale! They would be so much easier to avoid if these products weren't EVERYWHERE! You have to think about how much marketing and money has gone into these junk food products by huge food corporations like Kraft or Nestle, to make sure that there is such an omnipresent and huge assortment available to us, ready to fatten us up.
If you're tempted by these kinds of foods, you have to make some hard choices. There's a few ways to go about this:
Cave entirely and load up on junk food - FAIL! No progress is made and you've totally fallen off the wagon. :(
Cave only partially and indulge in one junky item. Here the best choice is buying a single serving portion, for example one small chocolate bar, or a small bag of chips - don't buy the XXL Party Pack size or a dozen donuts!! Sometimes it might be better to indulge in a craving and try to at least minimize the damage, than to totally deprive yourself and go insane because all you can think about for the next day is how much you're craving a Snickers bar! Of course, if you're indulging every day or every time you have a craving, you're not really changing your eating habits at all. Also, make sure to read the labels on the back - believe it or not, there are differences between junk food. Frozen yogurt might still contain a bunch of unnecessary sugar, but it will also be less fattening than Pralines & Cream ice cream. 70% dark chocolate is another good variety to regular milk or white chocolate as it contains a lot less sugar and fat.
Deny and walk briskly past - yay you did it! Pat on the back for you! It's OK to have sweets once in a while, but if you're trying to change your diet and lose weight - let's face it - the more you avoid these foods, the better.
Deny and buy a healthy alternative - this is usually my favorite (albeit often more expensive) option. No chocolate for me? OK, but I'll buy a container of fresh blackberries, or cherries, or splurge some extra money on a pricier cut of meat. Reward yourself for staying away from junk food with high quality healthy food. If you can afford it (and I know not everyone can) splurge on the pricier grade of nectarines or peaches, or maybe organic tomatoes or meats - the food tastes a lot better than lesser grades, and you're rewarding yourself with food - but ones that won't pack on the pounds! If you're a foodie like me, you'll get so much more joy out of the food you're eating if you buy high quality produce.
Keep your goals in mind when grocery shopping. Make a list and stick with it as much as you can. Avoid the junk food aisles. How serious are you about getting back into shape and losing those pounds you've packed on in recent years? If you've already dropped some weight, try to remember how amazing you felt finally being able to slip into your old jeans again - are you willing to give up those feelings for a chocolate bar?
I hope that's been motivational and helpful to you, and happy
healthy
shopping!